There has been a huge uptick in crypto lately as artificial intelligence spreads worldwide. There are now a lot more projects that are leveraging AI to differentiate themselves from the competition.
What is InQubeta?
This platform is the first AI crypto crowdfunding platform for investors who want to get in on the ground floor of AI innovation. With $QUBE, you can quickly and securely join our AI crypto crowdfund and be part of the transformation of AI technology.
With the InQubeta platform's fractional investment system, you can own shares of the most exciting and promising AI start-ups worldwide.
In addition to enjoying the benefits of being an early investor with each opportunity minted into an NFT and fractionalized, each investment opportunity can be invested in a way that suits your budget.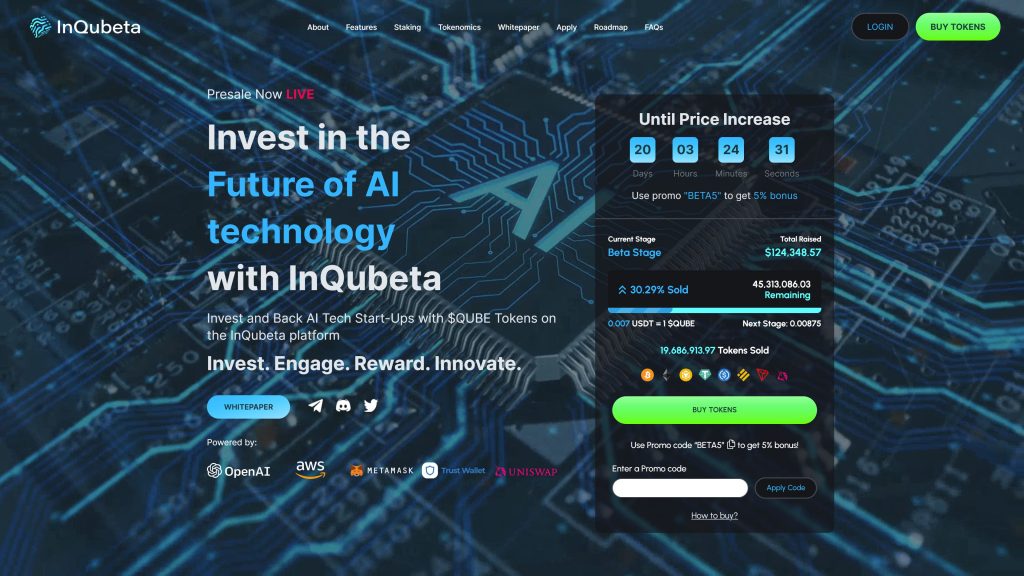 What is InQubeta ($QUBE) offering to investors?
NFT Marketplace
QUBE holders can invest in AI startups by listing their investment opportunities on InQubeta's NFT marketplace. By dividing each investment opportunity into fractional NFTs, investors can invest according to their budget. Investors can earn rewards and benefits as projects grow and develop.
Staking
Staking allows our community to earn rewards from our 5% sell tax while supporting AI technology startups. Staking provides our community with a unique opportunity to earn rewards while supporting the growth of AI technology startups by staking $QUBE tokens.
Governance
The QUBE token acts as a governance token by actively allowing its holders to participate in platform decision-making processes. $QUBE holders can contribute to the platform's development, operation, and future direction by proposing, discussing, and voting on various topics. The InQubeta platform aims to create a democratic and community-driven environment. Token holders are encouraged to participate actively in shaping the platform's future to help AI technology companies grow and succeed.
What is NFT, and how does NFT work?
InQubeta ($QUBE): Reshaping Crowdfunding's Future
With its vision to revolutionize how AI start-ups raise funding, InQubeta is a revolutionary project that has garnered enormous success recently with its vision to allow individuals to invest in promising projects without having colossal capital to invest.
It has become one of the top cryptocurrencies to invest in due to its use of decentralized technologies and its transparent and efficient ecosystem that rewards companies and sponsors.
On the platform, QUBE, its native token, facilitates transactions and encourages participation, playing a crucial role. Bringing about an era of fairness and transparency, InQubeta's cutting-edge technology and strong development team will disrupt the traditional crowdfunding landscape. In addition to acting as a governance token, it allows holders to propose improvements. They can also vote on implementing proposed proposals into the InQubeta ecosystem.
By removing the need for a broker, this platform allows seamless, efficient, and secure transactions in a secure, transparent, and accessible ecosystem. QUBE holders can purchase fractional investments in AI start-ups using reward or equity-based NFTs.
A dedicated rewards pool will allow investors to reap the rewards of this deflationary cryptocurrency. This is expected to become the leading standard for AI technology investments.
InQubeta (QUBE): The World's First Cryptocurrency To Support AI Startups
For AI startups to thrive and grow, they are increasingly seeking funds.
By providing seamless funds that benefit investors and startups, InQubeta has helped bridge the gap that traditional platforms like banks might be unable to fill.
With QUBE, investors can rely on a transparent, secure, decentralized investment platform based on Ethereum ERC-20.
As a result of InQubeta's presale, investors earn significant returns while becoming part of the AI startup ecosystem and benefitting from early investment.
Despite its beta status, the QUBE token offers a low price, and each presale stage offers a higher price.
Through the QUBE token, startups can engage their community and raise funds through reward and equity-based NFTs within the InQubeta community.
By investing in InQubeta NFTs, investors can reap the rewards of the coolest NFTS.
Also, QUBE token sales and purchases are also subject to a 2% tax. This may make QUBE a deflationary token in the short term.
As a result of this deflationary factor, InQubeta's price will rise. While the QUBE tokens are currently making waves, they will likely remain among the hottest NFTs to own.
What is InQubeta, and how does it work?
The InQubeta token is a deflationary ERC20 token designed to support the growth of AI technology startups. QUBE tokens become increasingly valuable with a 2% tax on all buy and sell transactions going to a burning wallet. This unique investment opportunity offers several advantages to the passionate community of supporters who believe in the potential of artificial intelligence. Investing in tokens allows investors to earn rewards by staking them for rewards funded by a 5% sell tax.
As a result of the intersection of AI and crypto technology, InQubeta recognizes its immense potential. Traditional investment methods, however, are inefficient and exclusive. As a result, the platform was created to bridge this gap, offering investors and startups a seamless and efficient investment process. InQubeta ensures the investment ecosystem is transparent, safe, and democratic by using blockchain and smart contracts.
With artificial intelligence booming and developing breakthroughs in various fields, from machine learning to robotics, startups are flourishing in an industry with limitless potential for innovation and growth. As a leader in supporting these startups, InQubeta understands how important it is for their success and the advancement of AI technology. Through InQubeta, investors can benefit from a secure and seamless investment process while actively contributing to this exciting movement.
Because QUBE tokens are deflationary, they are an attractive investment option for crypto investors seeking portfolio diversification. In addition to its scarcity, the token's value is potentially driven up by taxes on purchases and sales. If investors believe in the potential of artificial intelligence technology, they can earn rewards from the dedicated reward pool by staking QUBE tokens.
What problem is InQubeta solving?
Artificial intelligence has limitless potential for growth and development, which is constantly evolving. AI startups, who innovate robots and machine learning, drive this movement. However, investing in these startups can be risky, especially for those without the resources or networks. InQubeta has changed the situation here.
The deflationary ERC20 token enables fractional investments in AI startups, changing how startups raise funds and communicate with their communities. InQubeta, the first crypto crowdfunding platform, allows fractional AI startup investments. As a result of the platform, investors can invest in AI startups converted into NFTs and fractionalized. This provides them with early-backer benefits and a cost-effective investment option.
QUBE tokens offer investors an exclusive opportunity to invest in AI technology startups. InQubeta ($QUBE) charges a 2% tax on all buys and sells, which increases in value as our wallet is burned. The reward pool, which receives a 5% sell tax, is also available to token holders by staking their tokens.
By leveraging blockchain and smart contracts, InQubeta creates a transparent, secure, and democratic investment ecosystem. Anyone looking to invest efficiently, easily, and profitably in AI startups can use InQubeta ($QUBE) tokens.
Also read: Don't Miss These 10 Coins With 30x Potential in 2023
Conclusion
InQubeta ($QUBE) tokens and InQubeta's fractional investment platform are revolutionizing the investment landscape for AI startups. Using blockchain technology and smart contracts, InQubeta creates an ecosystem that benefits investors and startups by ensuring transparency, security, and democracy. It is an incredible opportunity for investors to support the future of AI technology while earning rewards with the deflationary nature of the QUBE token and the seamless investment process enabled by InQubeta's NFT marketplace.